Mr. Barber Multi Tong (MB-MLT)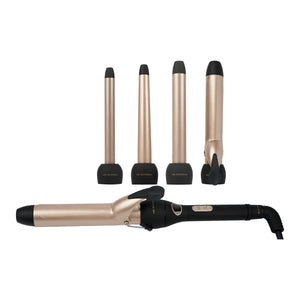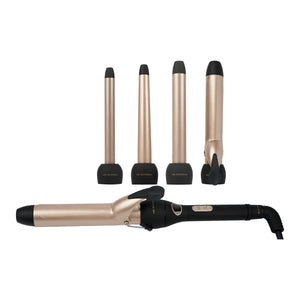 Mr. Barber Multi Tong (MB-MLT)
Regular price

MRP:

Rs. 9,500.00

Sale price

Special Price

Rs. 7,600.00
You Save:

Rs. 1,900.00

(

20

%)
Tax included.
Shipping
calculated at checkout.
Description-Discover a universe of hairstyling possibilities with Mr. Barber Multi Tong's four interchangeable barrels, each meticulously designed to cater to your unique style cravings. From the slender 19mm Thin Wand, perfect for tight, defined curls, to the tapered 19-25mm Creative Wand offering natural curls, the Mr. Barber Multi Tong hair Curler ensures that you're armed for any hairstyling experiment. The 25mm Classic Wand strikes the ideal balance between hair curls and straights while the thick 32mm Softwave Wand crafts loose waves for a carefree, beachy vibe. The Multi Tong's LCD grants you precise control over temperatures, allowing you to tailor your styling experience to your hair's needs. Rapidly heating from 80°C to 230°C (180°F-450°F), this tool ensures efficiency without compromise. Safety and convenience are woven into every aspect, from the 360-degree swivel cord providing easy maneuverability to the PTC heater ensuring secure operations. With an automatic safety shut-off function, this hairstyle lets you peacefully explore your creative freedom.

Features:

 Versatile Barrel Options:
Adapt to every occasion with the Mr. Barber Multi Tong's interchangeable design, featuring a variety of barrels. From tight curls to loose waves, this tool offers versatility for any desired look.
Rapid Heating Technology:
Mr. Barber Multi Tong heats up rapidly, saving you time and ensuring even heat distribution for hydrated, frizz-free hair. The rapid heating phenomenon retains moisture in your shafts and maintains their glimmer.
Effortless Temperature Control:
Experience effortless temperature control with the LCD, allowing you to set the heat precisely for your styling needs ranging from 80°C to 230°C (180°F-450°F). Achieve the perfect curls or waves with the touch of a button.
Convenient and Safe Operation: 360-degree swivel cord for easy maneuverability in limited spaces, coupled with a PTC heater for secure and controlled heating. The automatic safety shut-off function further fortifies operational safety.
 4 Unique Barrels for Every Style:

1. Thin Wand (19 mm): Achieve tight, defined curls perfect for elegant and structured looks.
2. Creative Wand (19-25 mm): Exercise your creative freedom with a tapered end, allowing for a variety of styles from loose waves to spiral curls.
3. Classic Wand (25 mm): The go-to choice for timeless, bouncy, even-spaced curls that never go out of style. Versatile and perfect for everyday looks.
4. Softwave Wand (32 mm): Craft loose, effortless waves or soft curls with the thickest barrel in the set. Ideal for achieving a natural, relaxed look.
How to Use:
1. Select the barrel that suits your desired style.
2. Attach it securely to the Multi Tong base.
3. Adjust the temperature to your preference.
4. Style away! Experiment with curls, waves, and more.
 Safety Information:
1. A universal heat protective glove has been supplied to help protect the hand from temporary contact with the barrel when wrapping the hair around the appliance.
2. Note that the heat-resistant glove is only designed to give initial contact protection.
3. Discomfort will occur if your hair has prolonged contact with the hot surface.
4. Never leave your electrical appliance on and unattended.
Express Delivery
Guaranteed Safe Checkout
100% genuine product
Free Shipping On Order Above 499
Guranteed Safe Checkout